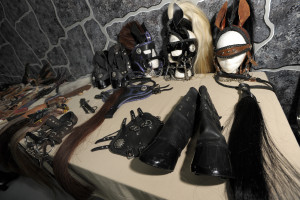 Several years ago I found myself in a fetish dungeon, an unlikely place for a Vanilla like myself, and in the unlikely locale of Largo, Fla.
This was all in the course of research for my book Fringe Florida, mind you. I was invited to a "Menagerie" hosted by a couple who were into pony play, an offshoot of the BDSM fetish where one partner plays the role of horse and the other acts as the horseman/horsewoman. Bridles, manes and tails, and crops involved. And yes, Florida does have a unique connection to this human equine world.
Adding to the animal theme of the day, the casual event also included an introduction to Furries, those who love dressing up like a dragon or a big pink bunny –  anthropomorphic beings of the imagination. In some cases, furrydom is also a sexual fetish. In others, just a geeky pastime. Often the distinction is blurred.
This animal kingdom accepted, or at least tolerated, me in part because of my prior work that coincidentally also involved Largo, a town sandwiched between Clearwater and St. Petersburg. Albeit that work was more traditionally reported news stories; the then city manager (Steve Stanton) came out as a transsexual (Susan Stanton) and blew the minds of many of its 78,000 residents. A whole other story.
You can learn more what happened at that Largo fetish dungeon tonight at my book talk (Feb. 9, 2016) at the Largo Public Library.  I will be showing some previously unreleased photos from my forays on the edge of the Sunshine State's strangest lifestyles. As always, I'll also share some insights on just why Florida attracts the unconventional – the fringe.
Many thanks to the Largo Public Library for hosting me and to the Tampa Bay Times, Creative Loafing and TBO.com for publicizing the event.
If you miss tonight's event, be sure to catch next month's in Winter Haven, home of Legoland and Swamp Boys BBQ World Headquarters. I'll be speaking at the Winter Haven Public Library on Sat. Feb. 5, 2016.
Oh, and lest I forget to mention: You can learn even more about Florida's prominence in the fetish world in my book chapter: "The Other Wild Kingdom."